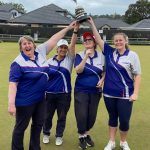 5.45pm
What an absolute nail-biter! In the Women's Final and both Men's Semi-Finals! If you were here watching, what a treat!
Congratulations to Balmoral for winning the Ryman Healthcare Auckland Women's Fours 13-12. And although it hurts, congratulations to Royal Oak for giving us such a thrilling final.
And it's an all Royal Oak final for the Ryman Healthcare Auckland Men's Fours, to be played on 27 March 2021. Congratulations to Mike Galloway and to Mike Bradshaw, and their teams.
Check the Auckland Bowls Facebook page for some live-streaming action of the last ends in 2 of the matches.
2.40pm
We have our Women's Finalists! In two thrilling semi-final matches, we saw the Lesley McLinden skipped Royal Oak team overtake Margarita Kelly's Glen Eden team, for the first time, picking up a 4 in the 13th end, bringing the score to 13-9. And they managed to hang on, the final result was 13-11.
And in the St Heliers vs Balmoral match, St Heliers had a commanding 15-5 lead after 9 ends. But we've seen before that those Balmoral girls never give up and they took the match 18-17.
The final of the Women's Four will get underway shortly.
Our men are now at the semi-final stage. One match has already started, the others are just having a bit of lunch and then they'll head on out.
We have Nick Krajancic (Carlton Cornwall) vs Mike Bradshaw (Royal Oak) and Neville Hill (Auckland) vs Mike Galloway (Royal Oak).
The Men's Final will be played on Final's day – 27 March 2021.
Men's Post Section Results Round 2 2020-2021
Women's Post Section Results Round 2 2020-2021
12 noon
We are now down to the quarter-finals for the men and the semi-finals for the women. The next round for all players has just started.
Men's Post Section Results Round 1 2020-2021
Women's Post Section Results Round 1 2020-2021
Sunday 13 December
Headquarters: Royal Oak Bowls
Time: 9.00a.m.
Men: 12 section winners plus the next best 4
Women: 6 section winners plus the next best 2
Men's Fours Post Section Draw 2020-2021